Welcome to our home away from home, Nashville's recording studios.  They vary in size, style and equipment, but we are certain you will find what you are looking for in the professional recording studios in and around Nashville.  With credits that range from documentary films to major ochestral scores,  the simplest demo to full record projects, this is where it all happens.  If you're not sure what microphones you need or the size of the studio for your session, contact NashvilleStudioOrchestra.com and we can link you with the right studio for your project.  We are confident you'll find your home away from home. Here's a few options/examples of what is available in Nashville. There are literally thousands of recording studios here.
---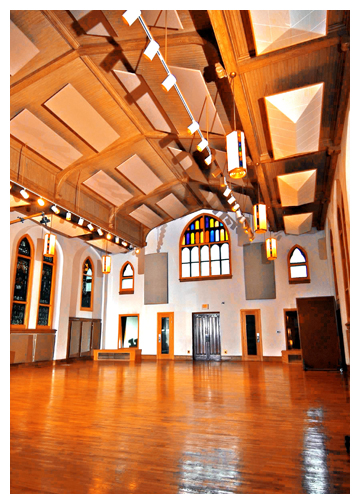 Ocean Way Nashville is housed in a Gothic Revival greystone church on famed Music Row that was built at the turn of the century. Ocean Way Nashville began as a joint venture of Allen Sides (Ocean Way and Record One, LA) and Gary Belz (House of Blues Studios, LA and Memphis). Architectural firm Studio Bau:ton helped design and build this beautiful facility. "Many of our LA clients work in Nashville because they appreciate the caliber of musicians," explained Sides. _Clients from both cities kept asking that we open a studio in Nashville, so it seemed like a reasonable decision.
In 2001, Belmont University bought the studio as a way to expand their recording program. Ocean Way however, remains a commercial studio and still strives to be a comfortable and creative space for all clients.
Clients over the years include George Strait, Matchbox Twenty, Harry Connick Jr., Faith Hill, The Mavericks, Willie Nelson, Train, Gretchen Wilson, Montgomery Gentry, Toby Keith, Three Doors Down, and Sheryl Crow.
---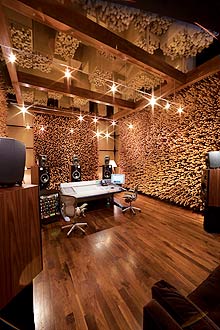 Blackbird Studio Studio D Equipment List
Console: 88 Input Trident 80 w/ (64) mic pre's
Mic Pre's Effects Units
(4) API 512c Eventide H3000-D/SE
(2) GML 8304 Lexicon 200
John Hardy M-1 Lexicon 480L
(2) Telefunken V72 Lexicon 960L
(2) Telefunken V76s (2) Lexicon PCM 42
(6) Vintech Audio X81 Lexicon PCM 70
T.C. Electronics M6000
(2) Yamaha SPX 90
Channel Strips
Manley VoxBox 2-Track Recorders
Alesis Masterlink
HHB CDR-850 Plus
EQ's Prism Sound Dream AD-2 Converter
Analog 2-Tracks available upon request
(2) API 550b
(4) API 550d Microphones
GML 8200
Manley Massive Passive (2) AKG C-414
Millenia Media NSEQ-1 (2) AKG C-451 E
(2) Pultec EQP-1A (2) Coles 4038
(6) Countryman DI
(2) Neumann 582
Compressor's Neumann M269
Neumann U67
API 2500 (2) Neumann U87
(2) DBX 160 (6) Sennheiser MD-421
(2) Empirical Labs EL8 Distressor (2) Sennheiser MD-441
Empirical Labs EL7 Fatso Jr (6) Shure SM57
Neve 33609/C (2) Shure SM81
Tube Tech CL 1B Telefunken 251
Tube Tech SMC 2B
UA Classics ll76LN
UA Classics Teletronix LA-2A In-Room Rentals
Urei Blackface 1176LN
Urei Bluestripe 1176 (2) API 7600
Urei 1178 (4) Chandler Limited EMI TG2
(2) Chandler Limited Germanium Mic Pre
(2) Chandler Limited TG Channel Strip
Other (2) GML 8200
(2) Neve 1073
Drawmer DS201 Gate (2) Neve 31105
(2) BBE 882i Sonic Maximizer SPL Transient Designer
---
EclecticProductions »Pro Tools HD3. API, UA, Focusrite pre's. Full complement of Mics for all types of recording. Kawai Grand Piano. Space for 10 strings or a full brass section or a country tracking band.
Clients include: Lloyd Barry, Matt Davenport Productions, Tyler Perry's Movies, Larry Carlton, Hershey, Lego Land, RCCL, John Hinchey, Bonnie Bramlet, Cumberland Univ., Harpeth Hall, 88 Grand Productions, Hezekiah Walker, Third Coast Talent, George "Goober" Lindsey, Kirk Carr, Al Delory, Donald Laurence, Tom Paden
---

Sound Kitchen The remarkable Big Boy Studio includes 3,000 square feet of tracking space, six isolation booths, and a Yamaha C-7 grand piano. Big Boy is a beautiful and spacious studio, measuring 45 feet by 74 feet in length. For client convenience, there is private entrance, restrooms,a full service kitchen and lounge area for your comfort and relaxation. Requested chef services are available and our experienced staff will assure that your stay is perfect!
CONSOLE:
Custom API Legacy Plus 80 Input w/Flying Faders
EFFECT PROCESSORS:
Lexicon 480 Digital Reverb w/Larc Remote
Lexicon 300 Digital Reverb
Lexicon PCM 70 Digital Reverb
Roland SDE 330 Dimensional Space Delay
Roland SRV 330 Dimensional Space Reverb
Eventide H-3000 Ultra Harmonizer
DYNAMIC GEAR:
Neve 33609 Stereo Compressor
(5) Neve 1073 EQs
Tube Tech PE1C EQ
Tube Tech CL1B Compressor
Teletronix LA-2A Compressor/Limiter
(2) Empirical Labs EL8 Distressors
(2) Purple Audio M76 Compressors
dbx 160 Dual Compressor
Aphex Dual Gate
Drawmer DS201 Dual Gat
MONITORS:
Mains: TAD TSM1
Powered by Bryston 7B
Nearfeilds: Yamaha NS-10
Powered by Hafler Transnova 9505 or Crest Audio V650
2 TRACK RACK:
Panasonic SV 3700 DAT Recorder
Panasonic SV 3800 DAT Recorder
Marantz PMD321 CD Player
Alesis Masterlink
CUE SYSTEM:
Formula Sound Q-8
Stereo Cues